In the town of Pakil in Laguna stands a beautiful church officially known as the
St. Peter of Alcantara Parish Church
, though most of the people simply call it as Pakil Church. This rural town may not be your usual destination when visiting Laguna, yet it is actually a good place to visit especially if you go on a
Visita Iglesia
of the great churches across the province.
A tour of the church would yield a lot of trivia, especially if you speak with the locals and the people in charge of the cathedral's upkeep. The locals are friendly and ready to answer your questions.
You would not believe that this church took some 35 years to build. Perhaps they placed attention to every detail because you could really see how lovely each part of the church looks.
Did you know that this church was the setting of the popular Juan dela Cruz? Yes! So, if you were an avid follower of that show, you will find this church familiar to the eyes. You could try to remember the scenes of that TV show as you try to check out in which part of the church the major events happened.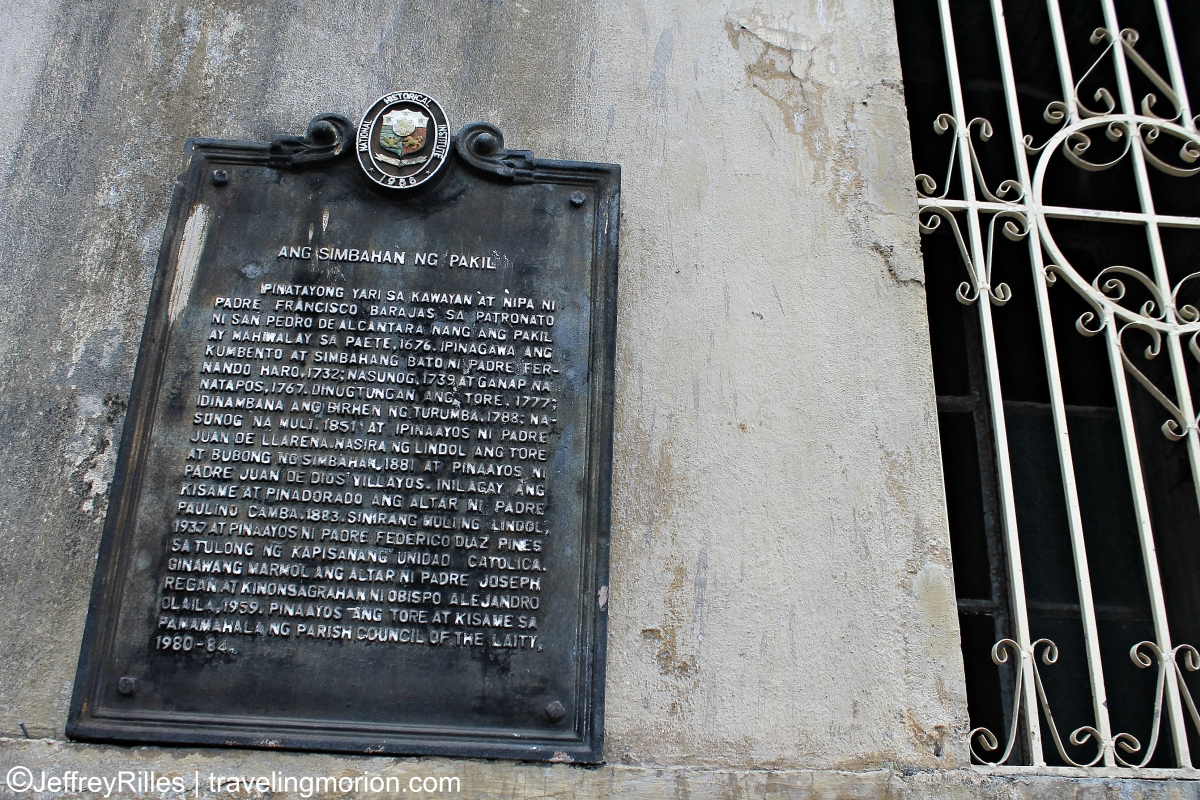 The seal from the National Historical Commision- inscription of the church's history
This grand church features lots of angels, shields, and crosses that made it appear to be a wonderful sanctuary where you can feel guarded from evil forces at all times.
It was quite surprising, though, that his church also held several frescoes, including one that featured heaven, hell, and purgatory! It was a chilling yet admirable painting that makes you want to confess your sins and turn away from evil just so you can go to heaven – it is vivid and heavenly.
The fresco was called "Judicum Finale", a masterpiece created by 19th century painter Jose Dans. Several stunning frescoes and paintings adorned this grand church, including a replica of La Pieta.
The Nuestra Señora de los Dolores or the Virgen de Turumba is enshrined in a tiny chapel in this beautiful church. The image is clothed in stunning beaded gowns which are changed every 2 weeks. According to some locals, the gowns of the Virgin are then cut up into small pieces which are then distributed to the faithful/devotees.
If you plan to visit this church, it would be a good idea to speak with the church workers and you might be able to obtain a piece of the virgin's gown as a holy memento to bring home.
Ride in a bus (HM, JAC, JAM, Greenstar), from Taft Avenue (Buendia)/Edsa/Cubao Terminal, going to Sta. Cruz, Laguna. At Sta. Cruz, board in a jeepney bound to Siniloan. Ask the driver to drop you in front of Pakil Church.
from Lucena (Quezon Province)
Ride in a jeepney (at Lucena Grand Central Terminal) with route going to Pagsanjan or Sta. Cruz. Alight in front of Pagsanjan Church or in front of the town's plaza then ride in a jeepney bound to Siniloan. Ask the driver to drop you in front of Pakil Church.
***
Let's #explore7107islands
Follow TRAVELING MORION's Journeys and Travels